Yoga guru BKS Iyengar said, "Health is the state of complete harmony of mind, body, and spirit." So, we need to ensure that we do not neglect our mental and spiritual health while focusing on our physical health alone. At Neeuro, we always believed that together with a healthy body, training your brain for a healthier mind is essential.
We first launched Neeuro SenzeBand, a headband equipped with electroencephalogram (EEG) sensors and an accelerometer that tracks head movement, designed to detect and read an individual's brain waves. These brain waves are then sent to a mobile tablet or smartphone, via Bluetooth, to help stimulate particular brain areas and train your mind to focus, relax, and improve your cognitive abilities with Neeuro's specially-designed mobile applications. Tech in Asia even called The Neeuro SenzeBand, a "Fitbit for your mind."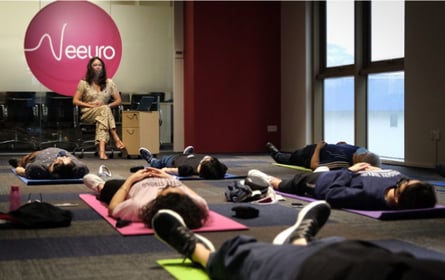 Neeuro has been working with various neuroscientists, clinicians, and Singapore's Agency for Science, Technology, and Research (A*STAR), to develop games for the SenzeBand. These specially designed games can help seniors remain mentally active, improve children's ability to focus, especially in their studies, or even help working professionals to remain focused when making decisions or tackling different projects at the same time.
Neeuro has also published whitepapers on how EEG and these gamification activities can improve the cognitive well-being of people.
Over the years, SenzeBand has found its way through thousands of households, senior care centers, and various companies, with the desire to improve memory, attention, spatial skills, multitasking, and decision making.
Several partners have also developed their own applications, leveraging on the proprietary and revolutionary NeeuroOS platform.
The perfect companion to a stronger and healthier brain
Technology continues to evolve and Neeuro has been researching the latest in EEG advancements to develop a more advanced portable EEG headset. This new product should enhance what the original SenzeBand offers, and also equipping it with more advanced capabilities. This is the all-new Neeuro SenzeBand 2, our most powerful SenzeBand yet.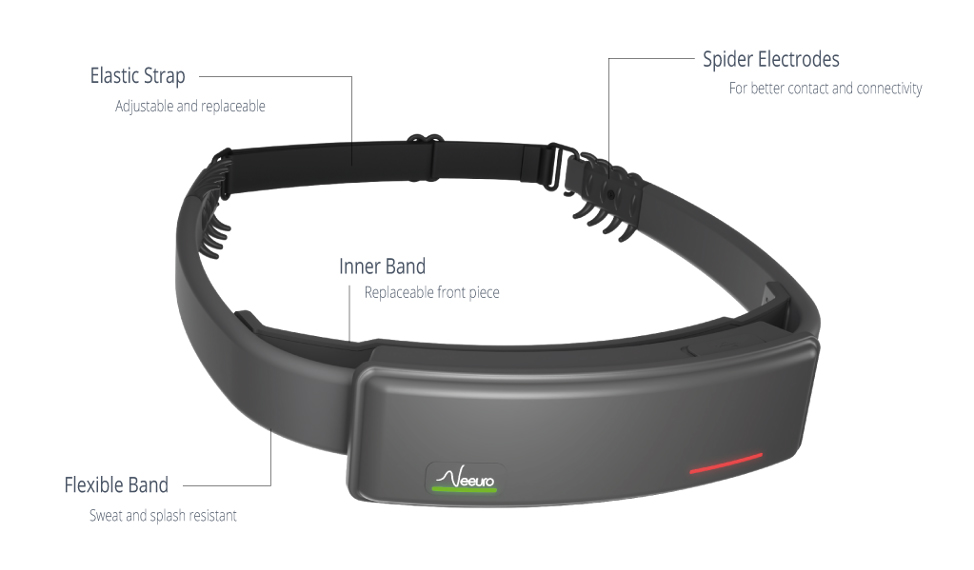 The SenzeBand 2 is revolutionary, featuring seven dry electrodes, five of which are located on the prefrontal cortex and two on the temporal lobes. These sensors detect and record raw EEG signals, that are then interpreted into the various mental states like attention, relaxation, mental workloads, fatigue, stress, and many more, using Neeuro's machine learning algorithms.
In addition, SenzeBand 2 features an additional PPG (photoplethysmography) sensor that captures Heart Rate and Blood Saturation levels. This allows us to enhance our existing mobile applications, leveraging on such data as well as giving our application developer partners the ability to design and produce even more powerful applications with the NeeuroOS platform.

Another key feature is that the SenzeBand 2 has a LED indicator at the front of the headset, that lights up once the desired mental state has been attained, giving a visual cue, for the clinician or facilitator, that their clients are using the SenzeBand 2 in the right way. SenzeBand 2 also boasts a sleeker, new design, and promises a better fit for a more comfortable brain training experience.
Neeuro Co-Founder and CEO Dr. Alvin Chan, a scientist who is passionate about acquiring both a healthy body and a healthy mind, explains the value of SenzeBand 2
"We are in the age where digital therapeutics deliver software-driven interventions that treat, manage and prevent disease that is evidence-based and clinically validated. With SenzeBand 2, the new specifications and capabilities make it a perfect companion to a stronger and healthier brain."
Solutions for a healthier brain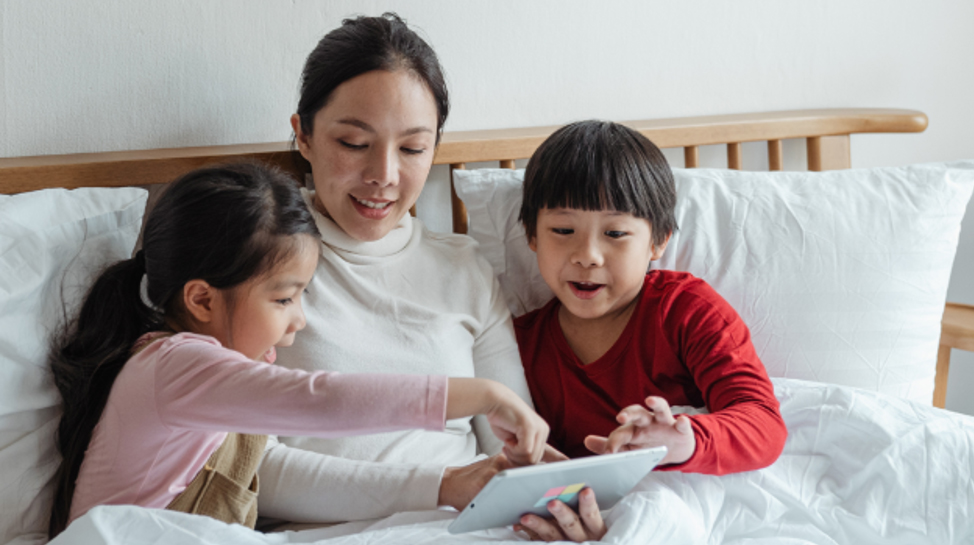 With the launch of SenzeBand 2, various sectors of society can take advantage of the new and exciting capabilities of SenzeBand 2. When paired with Neeuro's Digital Therapeutic solutions, our society can benefit from brain fitness programs that can help to stem cognitive decline as we age. Seniors that are facing cognitive decline may turn to the various brain fitness training course, giving them the opportunity to constantly keep mentally active and healthy. One such program is NeeuroFIT for Seniors, one of several brain fitness solutions created by Neeuro.
NeeuroFIT for Professionals, meanwhile, is an interactive course that uses engaging brain games and activities, teaching employees comprehensive memory techniques, enhance networking skills, and improve office productivity.
Finally, NeeuroFIT for Children is geared for 4 to 12-year-old kids to help improve their skills in attention, memory, spatial ability, decision making, and cognitive flexibility. The reports and assessments will lead to personalized training to ensure each child reaps the greatest benefits from each session of training.
Digital Therapeutics using CogoLand
CogoLand is a patented, scientifically validated digital attention training program based on Brain Computing Interface (BCI) technology. Jointly developed by A*STAR's Institute for Infocomm Research (I2R), Institute of Mental Health and Duke-NUS Medical School in Singapore, CogoLand, paired with Neeuro SenzeBand, is an attention training program that's easily administered and is a fun and interactive game to help children focus better.

The objective of the game is to move a character through a maze using their brainwaves. Mentally focused users are able to move characters, while less focused users slow down or freeze the characters. The key task is to stay focused during the training process where users are put through different sessions for sustaining attention, selective attention, inhibition, and even measured while performing academic tasks.
Endless Possibilities with NeeuroOS
Being iOS, Android, Windows, and Unity3D compatible, and with seamless connectivity with the open platform NeeuroOS, SenzeBand 2's integration of Artificial Intelligence (AI) platforms to harness brain data and effectively measure different mental states gives endless possibilities. Innovative solutions compatible with NeeuroOS may be created by developers, such as fatigue monitoring, pain management, and so much more.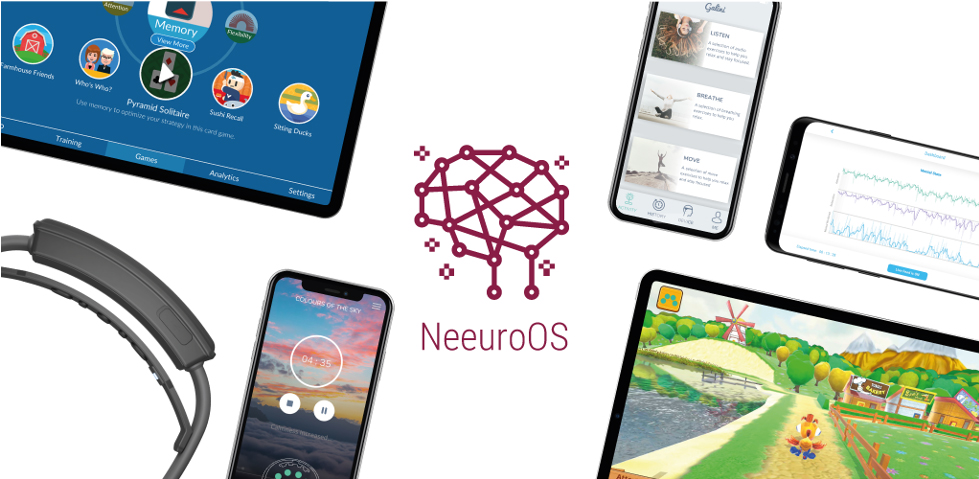 Integrate EEG technology with different opportunities and use cases. The next wave in mobile health technology has arrived, with SenzeBand 2. SenzeBand 2 is now available for pre-order.
Find more about Neeuro's SenzeBand 2 by clicking the banner below!