Welcoming 2022 with another threat of a new Covid variant brings so much anxiety to many of us. While we have been hoping for an end to the pandemic soon, it seems we need to once again keep our guards up, taking precautions and keeping ourselves and our loved ones healthy and safe.

We have previously discussed in my first article how the pandemic has affected people all over the world, including my personal struggles of going through the daily stresses and fatigue brought upon by work from home challenges. Once we realise how we are affected, we take control and ensure that we take the necessary steps to be physically and mentally healthy.

The question once again is, how do we know? How do we manage, especially with mental health issues on the rise brought upon by the Covid-19 global pandemic?

Understanding our brain: five types of brainwaves
Let us first understand our brain, which may be the most complicated part of our body, containing hundreds of billions of cells interlinked through trillions of connections. How does one measure these brain frequencies that are going on inside our brains? And how do we understand these readings?

Brainwaves (electroencephalogram or EEG) are the electrical activity that is recorded on the scalp and typically categorised into five types: Delta, Theta, Alpha, Beta, and Gamma. Using a portable EEG device, these brain waves (or brain frequencies) can be recorded for better understanding and monitoring. Read this blog where we wrote about each of these brainwaves.

However, unless you are a professional or trained in reading EEG directly, it can be quite challenging to make sense of it. This is where Neeuro has built up machine learning algorithms to interpret them into mental states that are easily understood, giving you real-time feedback on the state of your mind. All these are available through pairing with Neeuro's SenzeBand.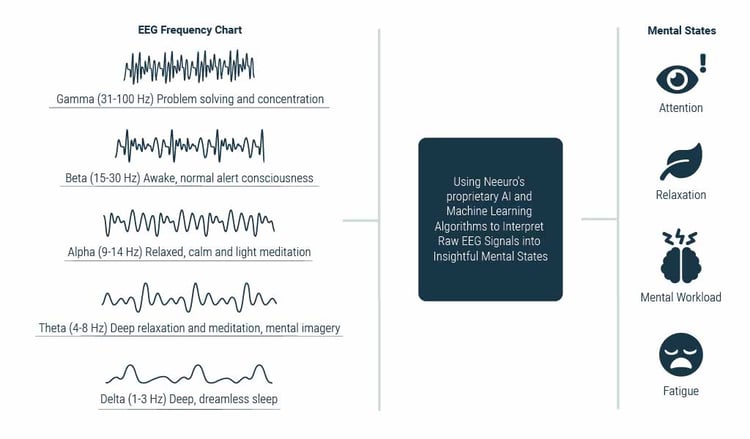 Relaxing my mind through NeeuroOS
It is through the NeeuroOS that makes it possible for the development of various applications both within Neeuro and with third-party developers and partners - applications that help simplify and understand one's mental states.

For instance, when I am going through stressful workdays and my mind races with various thoughts, I take a quick break and use Neeuro's Galini app which helps me to relax and calm myself down. It offers a variety of relaxation activities that helps to condition my mind into a relaxed and calm state. Together with the SenzeBand, I choose the 15-minute session, close my eyes, and listen to the soothing sounds in the app. For the first five minutes, I am able to calm myself. The rest of the time left, my mental being just goes to a fully relaxed and meditative mode. With this app, I am able to get real-time feedback and better control my thoughts, being more aware of my mental states to practice the activities correctly.



Summary After Completing a Session in Galini

The future is bright with digital therapeutics solutions
With NeeuroOS as the foundation, it opens more possibilities for different kinds of solutions that tackle different aspects of Mental Health challenges. Especially in today's pandemic / COVID climate, it is even more important that we maintain and strengthen our brain and mental wellness. Although our brain is a complex thing to understand, knowing that there are simplified solutions we can rely on to help manage our mental states using EEG is comforting enough.

In the last of this three-part series, I will discuss how we should take much more control of our mental well-being through digital therapeutics solutions. The future is bright, as we usher in the new year and welcome challenges by proper health and wellness management.