Five cognitive pillars
Attention, decision making, flexibility, memory, and spatial ability. These are the five cognitive pillars which, once developed, become the foundation for learning. From childhood, these pillars can be developed, improved on, and over time, become the basis for acquiring strong executive functions which allow us to complete tasks, solve problems, organize information, and make plans.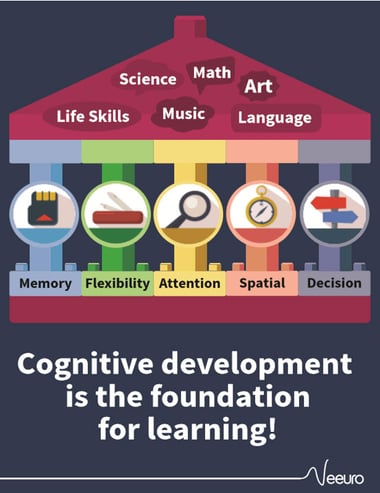 Improving executive functions
Executive functions are a set of skills that include organization, attention, and planning. Impulse control, emotional control, and working memory encompass these skills. Simply put, it refers to a group of important mental skills that allows us to set goals and get things done. We were not born with these skills, so children learn from family, the environment, school, experiences and influences. However, these skills may not necessarily be successfully molded, leading to issues with attention, memory, and other cognitive issues. These issues may result in challenges when learning, getting ahead in school, or even with social skills. When they do not do well in school, when they refuse to make friends, join social or sports activities, it can be frustrating for both the children and their parents.
Portable EEG devices
The emergence of EEG devices has been helpful in monitoring, tracking, and assessing brain waves that will help determine the need to improve on attention, focus, problem solving, and even stress management. These EEG devices can measure your levels of relaxation and attention and gives you the opportunity to undergo training that may help develop and enhance cognitive functions, even in children.
Some of these EEG devices are passive, portable and non-invasive. It can be used in a home setting as they are not bulky, complicated, or difficult to operate. Anyone will be able to evaluate and measure his own brain waves; it is easy to put on, and it gains value in real time, typically through associated apps.
Children will have better chances in learning and improve their executive functions; adults will also be able to focus well on work, and seniors, who may, over time, have memory problems, will be able to function better and lead healthier lives.
SenzeBand 2
The new and upgraded Neeuro SenzeBand 2 is one of the more portable, powerful and accessible EEG devices. Its seamless connectivity with NeeuroOS apps, SenzeBand 2 also provides programs that help to train you to improve, develop and enhance your cognitive development. It has 7 EEG sensors and one PPG sensor, including a 9-axis motion sensor. Whether for children, adults, or seniors, the SenzeBand 2 is suitable for all ages, adjustable to fit any head size, and with an improved battery life.
SenzeBand 2 has two temporal lobe sensors, those spider electrodes designed to cut through hair for better conductivity. The temporal lobe is a significant part of the limbic system – that which involves motivation, emotion learning, and memory. The function of the temporal lobe centers around auditory stimuli, memory, and emotion, and data gathered from the EEG will help improve executive functions.
Tracking executive functions: SenzeBand 2 paired with Memorie app
With the revolutionary SenzeBand 2, one can customize what executive function to focus to improve on as well as deliver training programs that monitor and manage brain health issues. These programs are science-based and clinically-validated. Paired with Neeuro's Memorie app, a collection of mobile games which help train our cognitive functions, these games provide mental exercises that enhance one's attention, memory, decision-making, spatial awareness, and cognitive flexibility. The metrics in the game measures your brain activity while training.
Developed by neuroscientists and psychologists to provide the most relevant training methods for cognitive development, Memorie games have levels of difficulty to challenge your mental abilities. Your progress is tracked through Memorie's analytics, giving you the opportunity to achieve a healthier mind.
Read more about SenzeBand 2 and Memorie app, and be on your way to a stronger and healthier brain.