Ho Chi Minh City, Vietnam – Neeuro is honoured to have been invited by the Centre For Mindfulness Singapore to participate in the Conference on Mindfulness and Positive Psychology 2023, held on 21st April 2023 at Fulbright University Vietnam.

The conference aims to raise awareness of mindfulness and positive psychology towards an individual's mental health. As a trailblazer in Digital Therapeutics (DTx) and neurotechnology, Neeuro's psychologist, Darwina Azmi, spoke passionately about how the integration of psychology and technology can partake in enhancing an individual's cognitive health and wellness. Along with her were key speakers Dr. Kathirasan K., Founder and CEO of Centre For Mindfulness, Albert Tiong, Managing Director of Centre For Mindfulness, Sandy Sinn, Founder of Centre for Positive Psychology & Wellbeing Vietnam, Dr Nathan Gehlert, visiting psychology faculty, Fulbright University, and Dr. Quynh-Anh Ngoc Nguyen, lecturer and researcher of Applied Psychology at RMIT University Vietnam.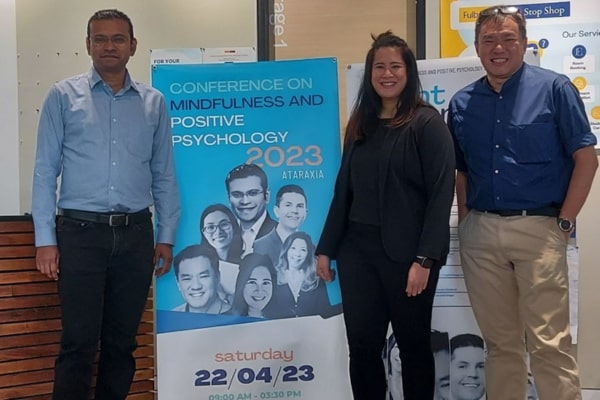 "It's really interesting to see participants coming up to me after the sharing and telling me how they did not know there were different categorizations of digital health apps out there. Well, Neeuro has always been passionate about utilising technology to empower minds so, we continue infusing neurotechnology into our offerings. And that is unique on its own," said Darwina.

Neeuro is a Singapore-based technology company that currently offers an array of digital mobile application solutions that aims to enhance children's attention span such as Cogo, stress management for adults such as Galini, and brain training for seniors such as Brain Fitness using EEG technology and machine learning algorithms.

"Our solutions are evidence-based, backed by rigorous research and clinical trials. At the end of the day, we believe in empowering every individual to take charge of their cognitive well-being," said Dr. Alvin CEO of Neeuro.

Unlock your cognitive potential with Neeuro's gamified DTx solutions. Connect with us today to improve your cognitive wellness.