We navigate situations every day using our executive function and self-regulation skills, but these are not something we are born efficient with. Children have the potential to use them but will need to exercise and develop these skills over time to reap the benefits academically as well as in later life. The executive function, found in the front of the brain, acts as a type of air traffic control system for children, managing one and one's resources.
One of the three main brain functions in the executive function is mental flexibility and this involves how capable we are of sustaining or shifting attention as needed. It allows us to apply different rules to a variety of circumstances and is highly linked to self-control which is responsible for prioritization and impulse control.
Let's look at attention and self-regulation for children and how developing these key skills helps create a cognitive foundation to help them in school and beyond.
Have you ever started doing one task, only to come back later to find it was half finished because you got distracted doing something else? That's due to a lack of attention and self-regulation so your focus has weakened. Psychologists define attention as the ability to take in or perform one specific thought or action, despite several trains of thought or sensations going on around us. Any parent will know, children can find this particularly difficult, but they don't have to if we help them develop these skills.
Children with weak attention or conditions such as ADHD may have difficulty carrying out tasks without getting distracted, which hinders their ability to progress in life and in school as well. It doesn't matter how good the lesson or textbook is for children with low executive functions because they simply don't have the ability to cope with the materials and process it in the right way. If they can't focus on what is in front of them, they won't be absorbing the knowledge they need to succeed.
Consider a teacher asking children to pay attention and listen to a story, which requires them to focus on each sentence to make sense of the story over time. When they get distracted, they could be missing vital pieces of information to perform the next set of tasks and hinder their learning overall. Education can be particularly content heavy with exams relying on the specific content that has been learned. So, attention is the key to making sure your child can pick up the concepts when they are being taught. If they don't pay attention at this stage, there is nothing for them to recall later on.
Attention and self-regulation are closely interlinked, with research suggesting that by improving self-regulation, it will help your children pay better attention. This is because, self-regulation gives children the skills to ignore the distractions and avoid going off on a tangent, allowing them to better focus on tasks in front of them. Self-regulation involves different areas and is responsible for your children being able to:
Focus and concentrate

Assess themselves

Initiate or persist in a task

Think before they act

Maintain social appropriateness


For example, in school, a teacher will ask questions to the class and those with developed self-regulation will put their hand up, wait, and focus on the answer rather than shouting out or getting distracted by other children. This also comes into play socially as children learn to listen to others as part of the conversation and learn what is appropriate to say or hold back.
Exercising self-regulation and attention skills are important for cognitive development. They create a foundation your child can draw upon for academic success to build confidence and independence. There are several ways you can exercise these skills to keep your child attentive during class, namely by incorporating technology and gamification so that it happens in an engaging and fun way.
Using the NeeuroFIT enrichment curriculum, for example, helps to create a blend that is enjoyable while working on core executive function areas. Spending 1 hour a week working on tactile activities and brain training gameplay can produce a boost in cognitive function for all types of children, including those with ADHD. You can monitor your child's progress using the centralized portal so you can identify the weaker areas to work on and adjust to these skills.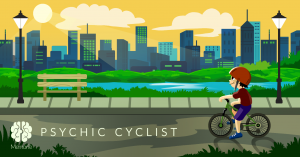 You can expect to play games like Psychic Cyclist which trains your children to use selective attention for better and longer focus. The Senzeband used is able to pick up EEG brainwaves to convert the state of attention to control the cyclist by focusing on different elements in the game which exercises your child's attention skills. When the Senzeband detects high focus levels, it moves the cyclist but if your child becomes distracted, the cyclist will slow down or stop.
For more information on the brain training programme and Neeuro's Memorie app, visit our website, and see how we can help improve attention and self-regulation to benefit your children.
Neeuro works globally with partners such as training providers, technology system integrators and schools to benefit children. Using modern solutions for cognitive training, cognitive skills such as attention and memory are emphasized and honed. NeeuroFIT aims to improve every child's academic success via better learning outcomes.
Click on the banner below to learn more about Neeuro and what we can offer you as a partner!