Neeuro has appointed SMTech Thailand as its authorized Value-Added Partner (VAP) for Thailand, to mutually seek solutions for healthier minds, and to pursue cognitive solutions through brain training using education, outreach, and related programmes.

Launching Neeuro's innovative solutions, specifically the NeeuroFIT program, users of this brain training solution will be on their way to improve and maintain their attention, memory, spatial ability, decision making, and cognitive flexibility skills. Aside from improving one's productivity and the ability to perform one's daily tasks, this modern solution to brain training enhances focus and can help prevent cognitive decline that leads to mental illness.

"We are pleased to partner with SMTech and introduce our innovative and scientifically validated NeeuroFIT solution into Thailand, as we help contribute to the brain health and wellness for people in Thailand," says Calvin Wee, Chief Operating Officer of Neeuro.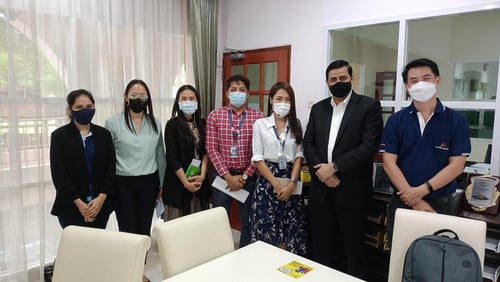 SMTech Thailand's General Manager Malay Mitra expre
ssed his gratitude for the
collaboration. "Having NeeuroFIT will mean more opportunities for teachers to c
a
scad
e their knowledge and train students
to focus on strengthening their mental health. With the current global health crisis, solutions to maintain our mental well-being are very much needed, and a goal we wish to achiev
e. Being a partner of Neeuro is a big step towards this goal."

SMTech will introduce and actively promote this innovative brain training program to Thailand through their extensive network, focusing on opportunities to prevent cognitive decline that leads to mental illness. These brain training solutions keep regular users mentally active and healthy.


SMTech Thailand is known to be a digital transformation enabler, offering innovative technology based on the market's changing demands. Its collaboration with Neeuro focuses on cognitive improvement, brain training, and cognitive assessment through NeeuroFIT.

Neeuro has been developing innovative products that empower people to live happier, healthier, and more productively through neurotechnology and gamification. Together with SMTech Thailand, the partnership will help strengthen the well-being and brain fitness of their target markets.


Contact details:


SM Tech - Thai Co., Ltd.


Level 23rd
159/37 Sermmit Tower
Sukhumvit Soi 21 (Asoke Rd.),
Wattana, Bangkok, 10110
Thailand
https://smtechthai.com/
https://web.facebook.com/smtechthaiedu/